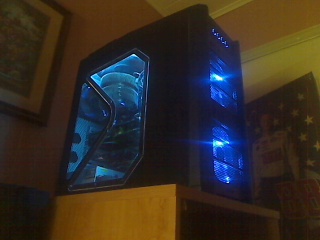 Case- Antec 900 Gaming Case. 200mm Top Exhaust,120mm Exhaust and 2x 120mm Intakes.Nexus 4 Port Fan Controller,Logisis Dual Cold Cathode Blue Case Lights,Dual Cooler Master 110CFM 120mm Blue LED Intake Fans,VGA Housing Removed. Custom Modified For Wire Management and Airflow.
Power Supply- Antec TruePower Trio 650W SLI Ready w/ 120mm Fan
Mother Board-EVGA nForce 780i SLI Motherboard - NVIDIA, Socket 775, ATX, (New A1 Version), Audio, PCI Express x16 2.0, 3-Way SLI, Dual Gigabit LAN, S/PDIF, USB 2.0 & Firewire, Serial ATA, RAID. Bios:P08 15.23 Drivers. VDrop Pencil Mod and Cooler Master 60mm Blue LED Fan Modded To The North Bridge.
Bios Tweaks:

-Floppy Disabled
-2nd,3rd and Other Boot Disabled
-Multiplier 9X
-All Spread Spectrums Disabled
-SLI Ready Memory Disabled
-FSB Memory Clock Mode Unlinked
-FSB Memory Ratio 4:3
-FSB(qdr) 1422
-CPU Config. All Disabled Except 4 Cores,Virtualization Tech and Exucute Disable Bit
-System Voltages
Vcore 1.30
FSB 1.3
RAM 2.2
SPP 1.45
MCP 1.525
HT 1.30
GTLREF @ Lane 1 Auto
Lane 2 Auto
Lane 3 Auto
Lane 4 Auto
-Integrated Peripherals
ieee1394 Controller Disabled
onboard fdc Controller Disabled
IDE disabled
init. display PCIE
onboard HD Audio Disabled
-SLI GPU's
No

CPU- Intel Quad Core Q6600 GO 2.4 Ghz 8MB 1066 FSB 1.2750 VID Overclock:1422 FSB Mhz [355X9] 3.20Ghz Volts:1.30 / 24c 24c 22c 22c Idle @ 33c Mother Board Temp. Max Load Temp (Prime95 12 Hour Blend Test) 44c
Hard Drives- Western Digital Raptor 150GB 16MB 10,000 RPM SATA [OS]
84.2 MB Avg. Read
Western Digital 500GB 16MB 7,200 RPM SATAII [Storage]
39.5 MB Avg. Read
CD/DVD Roms- LG 20X DVD+R/RW SATA Dual Layer Burner
Video Card- Single EVGA GeForce 9800GTX 512MB GDDR3 PCI Express 2.0.
Overclock: 810 X 2052 X 1152 X 100% Fan 182.50 Drivers.
Sound Card- Creative Labs X-Fi Xtreme Gamer 7.1
Memory- GSkill PC8800 DDR2 4 GB (2X2048) MB Overclock: 1066 Mhz. Timings 5-4-4-12-2T tRC 21 1.83v
Cooling- Zalman 9700LED w/ Artic Silver 5 Thermal Paste. CPU and Heatsink Lapped
Monitor- Samsung 953BW 19" Widescreen LCD 2ms,8000:1,1440X900 Resoloution 75 Refresh Rate
Speakers- Logitech X-540 5.1 w/ Subwoofer
Operating System- Microsoft Windows Vista Ultimate SP1 64-bit
*Mods and Tweaks In Blue
FutureMark 3DMark06
-7,908 Single 8600GT (3.8Ghz OC)
-13,186 Single 9600GT (3.6Ghz OC)
-15,096 Single 9800GTX (3.2Ghz OC)
-16,001 Single 9800GTX (3.6Ghz OC)
Vantage
-P8217 Single 9800GTX (3.6Ghz OC)
Passmark Performance Test 7.0
-1800.1 (3.2Ghz OC)
Everest Cache & Memory Benchmark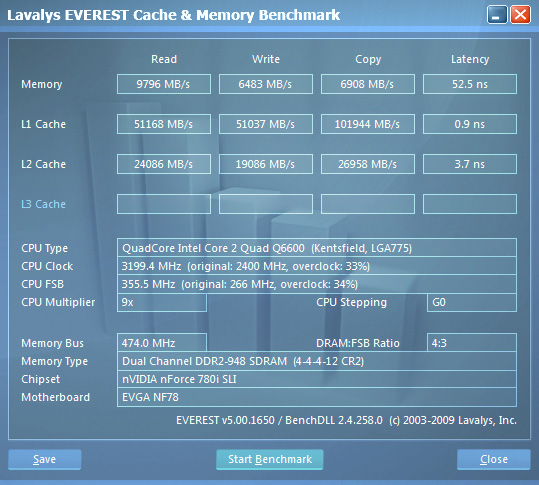 url=http://www.evga.com/folding/][img]http://www.evga.com/folding/images/folding_team_sig.jpg[/img][/url